Disasters, such as floods, fires, equipment failure, or terrorism, can strike with no warning. Recovering from the impact of a disaster can be a massive undertaking if companies aren't prepared. The downtime alone can be incredibly expensive. The difference between companies which successfully manage crises and those which don't is in the business continuity and disaster recovery planning. 
Traditionally, disaster recovery solutions required significant investment, with adequate resourcing from an IT team, with lengthy set up and training while managing a range of moving parts. We've removed the hassle and the financial burden, making it easier and more affordable than ever to get the security and risk mitigation you need to protect your business and your customers.
Discover how we can help you minimise downtime and keep costs incredibly low
VEEAM CLOUD CONNECT REPLICATION
SECONDSITE
POWERED BY ZERTO
Veeam Cloud Connect Replication provides image-based VM replication with RPOs of 15 minutes. If a disaster or outage were to affect your business, you can quickly and easily switch to VM replicas in Zettagrid cloud and use our infrastructure as a remote disaster recovery site. Failover testing comes at no cost to you. For existing Veeam and VMware users, the familiarity will make implementation easier than ever.
SecondSite powered by Zerto keeps your on-premise production virtualised environments synchronised to Zettagrid's cloud enabling real time DR failover with RPOs of mere seconds. It's scalable - whether you're protecting 1 VM or 1,000 VMs, it's the same reliable and affordable solution for small businesses and large enterprises.
WE'VE MADE DISASTER RECOVERY EASIER
BUT STILL PACKED WITH FEATURES & BENEFITS
Simple, efficient and reliable 
Simple plans with no contracts 
Test anytime, day or night
Monthy subscription pricing
Easy compliance reporting
CHOICE OF DISASTER RECOVERY SOLUTION
MEANS ANY BUSINESS IS COVERED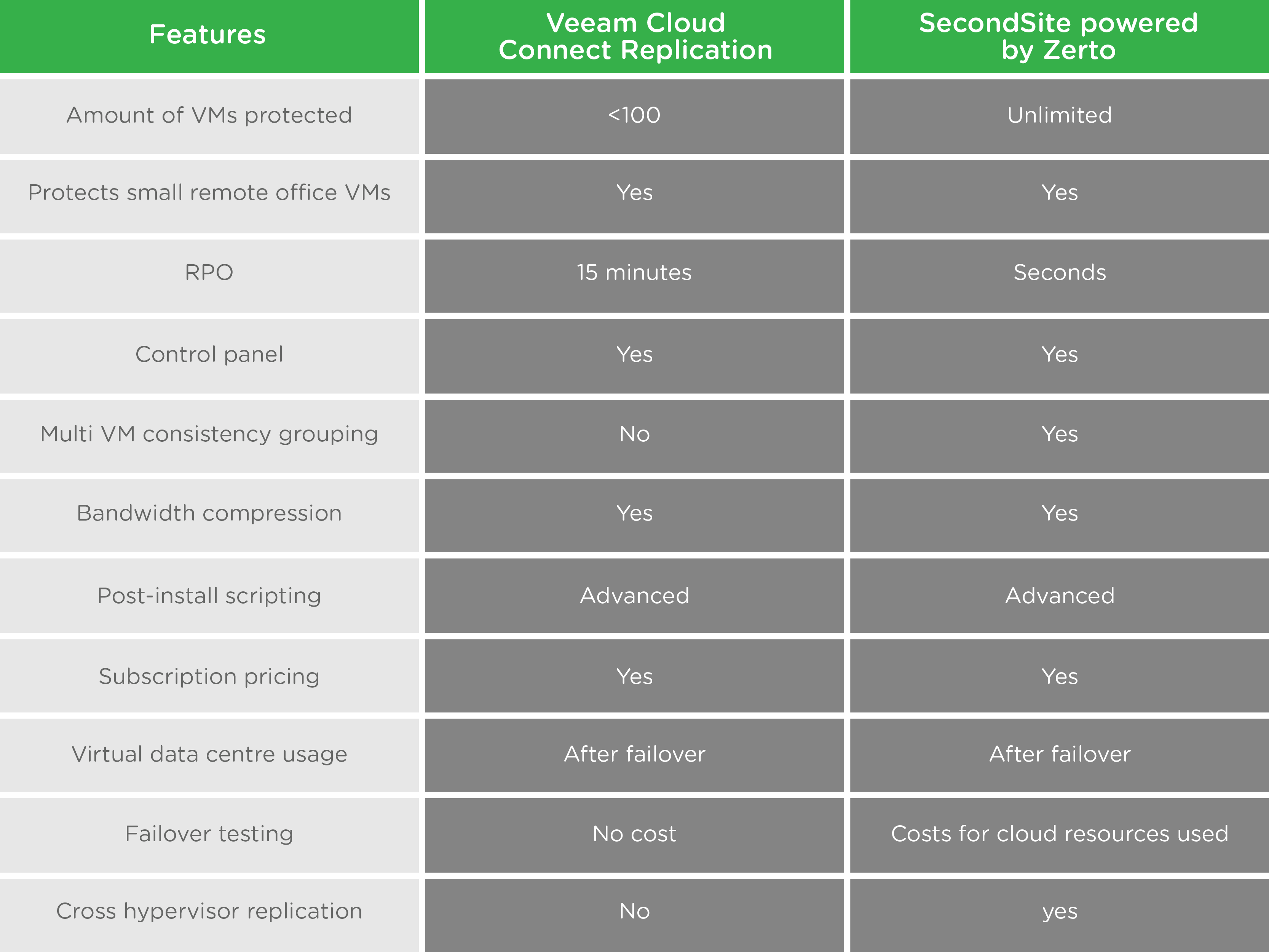 HAVE QUESTIONS ABOUT DISASTER RECOVERY? WE CAN HELP.