SECONDSITE DISASTER RECOVERY
Your business continuity is critical to your commercial survival. SecondSite delivers you the most powerful and affordable real time replication solution to integrate into your disaster recovery plan.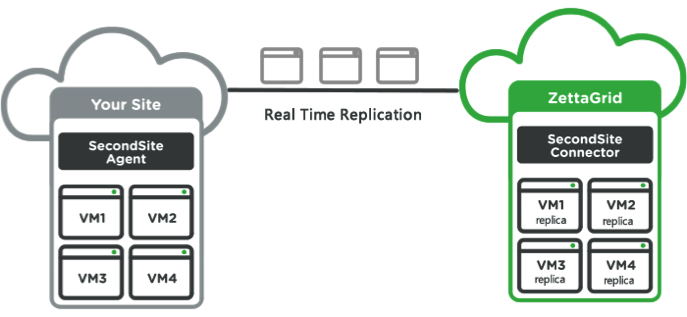 SecondSite is a real-time disaster recovery replication (DRaaS) solution built on the award-winning Zerto platform that provides recovery site, data synchronisation, accessibility and activation for part or all of your virtual environment. SecondSite removes the hassle and the financial burden, making it easier and more affordable than ever to get the security and risk mitigation you need to protect your business and your customers. 
Simple pricing, simple plans
SecondSite is $99 per VM (Up to 1TB in size), per month, with no lock-in contracts.
If you have VMs larger than 1TB then each additional 1TB costs $99/mth. 
There are no base service fees, reservation fees, licenses, storage costs, ram costs, cpu costs and consulting charges. In the event of a disaster and you failover to Zettagrid for production, you be will only be charged for the resources you use.
Replication – innovating disaster recovery
With SecondSite as part of your wider disaster recovery plan, your business is better prepared and can successfully manage crises if the unexpected happens. It enables your business to replicate your virtualised IT environment into Zettagrid's cloud and if a disaster were to impact your business, you can have your IT up and running within minutes until your primary site recovers. Say goodbye to expensive secondary data centres, duplicate IT equipment and lengthy wait periods interrupting your operations and impacting your business.
With Zettagrid cloud as your secondary data centre and resources via our mature VDC product, with replication software that does the heavy lifting using industry standard Zerto and full automation using our middleware that integrates all the components, replication is the right solution for you and your business.
The product keeps your on-premise production virtualised environments synchronised to the Zettagrid cloud enabling real time DR failover and failback with Recovery Point Objectives (RPOs)of mere seconds and Recovery Time Objectives (RTOs) of a few minutes.
Replicate between Zones with SecondSite Interzone
SecondSite allows you to replicate from on-premise into Zettagrid, however we now offer SecondSite Interzone. SecondSite Interzone now allows you to replicate your VDC's between Zettagrid Zones. Once you have purchased a VDC you can simply enable replication of any of those VM's for only $109/VM/mth (Up to 1TB) to a different geographical availability zone.

A disaster recovery solution for all businesses, large or small
SecondSite is scalable. Whether you're protecting 1 VM or 1,000 VMs, it's the same reliable and affordable solution for small businesses and large enterprises.
DEPLOY, TEST & RECOVER FASTER THAN EVER BEFORE
Testing and deployment of SecondSite is fast, with the lowest RPOs available of any cloud service. Performing a full failover takes only a few minutes with next to no impact to your day-to-day business operations. Your users probably won't even know that you failed over into the cloud.
If the unexpected were to happen to impact your business, you can have your IT up and running within minutes until your primary site recovers. That's because your virtualised IT environment was replicated in Zettagrid's cloud.
Ensure you are prepared for a disaster with our handy DR checklist.
Compliance reporting made easy
It can often be challenging to demonstrate and report on compliance.
With SecondSite, all compliance reporting information you may need is easy to access and on-demand any time within our management portal. This makes it easier to communicate compliance across your company, to your Board of Directors or with auditors. You also have options available to you if you would prefer having your regular reporting completed for you.
Innovative solutions means extensive features
All Australian data centres
POWERED BY 


A PLATFORM YOU CAN TRUST
SecondSite is built on Zerto's reliable cloud business continuity platform and utilises virtual replication - the standard for protection of applications in cloud and virtualised data centres in Australia. With SecondSite's Replication-as-a-Service offering powered by Zerto, you benefit from all the capabilities of a typical disaster recovery solution, but without the requirement of a dedicated data centre.
COMPARING DISASTER RECOVERY CONCEPTS
In order to support corporate needs, IT managers are responsible for making sure information and applications are always available.
With our Comparing Disaster Recover Concepts whitepaper, find out how traditional disaster recovery sites and approaches to data synchronisation compare with SecondSite™. 
WHEN IT COMES TO THE INFORMATION YOU NEED, OUR GUIDES HAVE YOU COVERED
Our video guide series makes it easy for you to understand the ins and outs of disaster recovery and why SecondSite is the right choice for you and your business. From outlining the benefits of replication as a service in Disaster Recovery, to a step by step explanation of the simple installation process, our Principal Technologist/Evangelist Luke Brown has you covered. To provide you with added support, our handy FAQs page goes deeper into a range of important and informative topics.

"The most shocking thing was the simplicity. I have been in IT for 20 years, and things just get more and more complex. The Zettagrid team told us this would be easy, and we were not disappointed. This was very easy to install, implement and maintain."
- Troy Cook, IT Manager, HIF
Health Insurance Fund (HIF) of Australia is a not-for-profit organisation with over 120,000 members who rely on them to provide the insurance coverage they need for their healthcare. Their IT team was already stretched and was using a Site Recovery Manager with array-based replication, which was complex and costly, as it required a full secondary site.
SecondSite was the solution HIF needed.
Find out about how we created value for HIF.
SecondSite adds value to businesses in all sectors
Read examples of how SecondSite benefits many type of business.
Simple pricing, simple plans
SecondSite is $99 per VM (Per TB), per month, with no lock-in contracts.  Gone are the days of complexity with base service fees, resource reservation fees, license fees, storage costs, ram costs, CPU costs, consulting and implementation costs.
SecondSite Interzone is $109 per VM (Per TB), per month and is available in MyAccount once you have purchased your VDC and created a VM. Find out how.
You'll receive one FREE failover test every 90-days* (this test is limited to 24 hours and does not roll over if not used).
*If you need to failover again in this 90-day period, you be will be charged for the resources you use.