Zerto Software Install Guide
Step 1 – Deploy A VM
Deploy a new or multi-use VM in your environment that does not need protecting by SecondSite.
The server you are installing onto needs to be at least Windows Server 2003 SP2 or higher with at least 1 vCPU, 2GB RAM and 4GB free disk space.
You will also need to have .NET 4 installed, which comes with the Zerto installation software. We recommend that you also use SQL Server if your environment has over 40 hosts and 400 VMs in need of protection.
Step 2 – Download Software & Begin Installation
Download the latest SecondSite supported Zerto software VMWARE or HYPER-V (Note Hyper-V Compatibility Considerations)
If you do not have Microsoft .Net or it needs to be updated then this will update it and also reboot the server.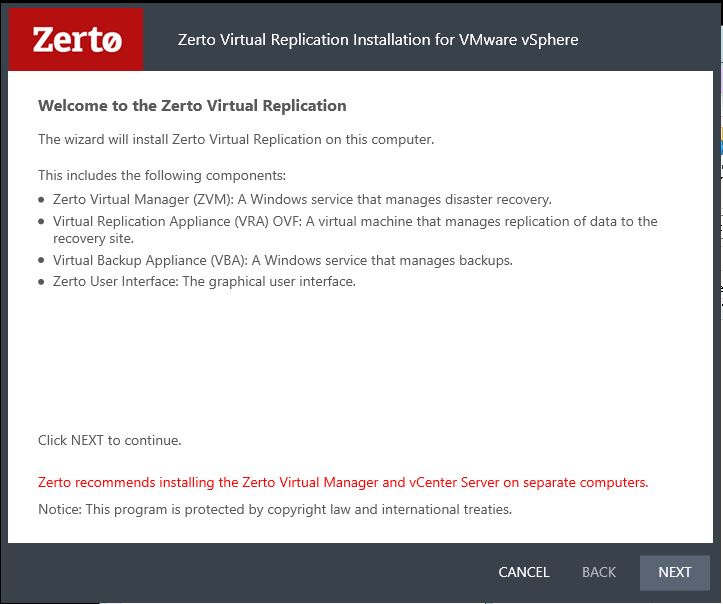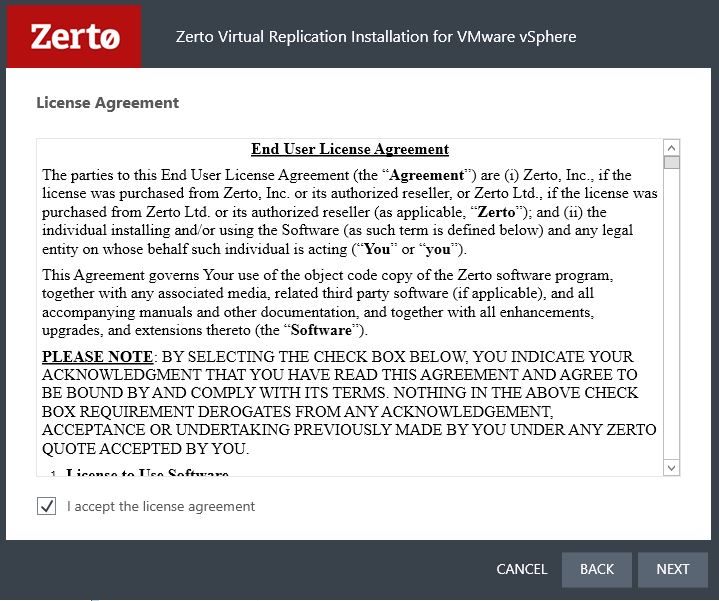 Step 3 – Install Directory
Choose an install directory. It's generally best to avoid making this the OS drive, just in case it fills up one day.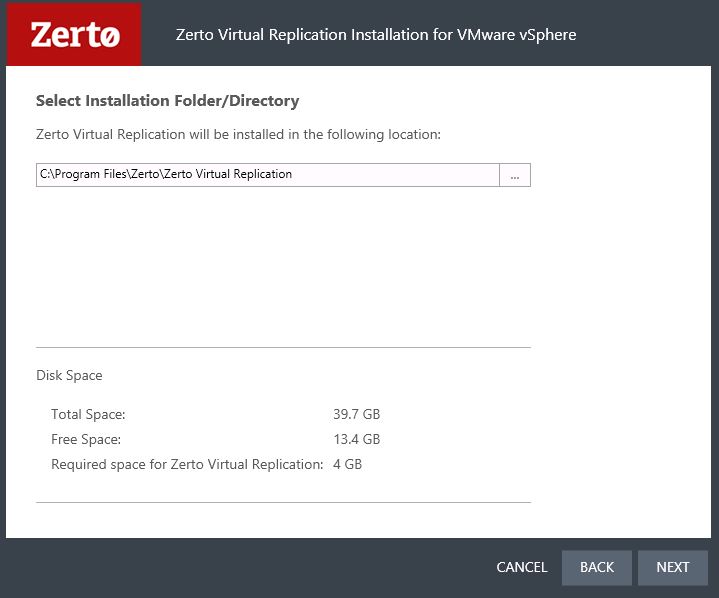 Step 4 – Installation Type
Choose a custom installation type.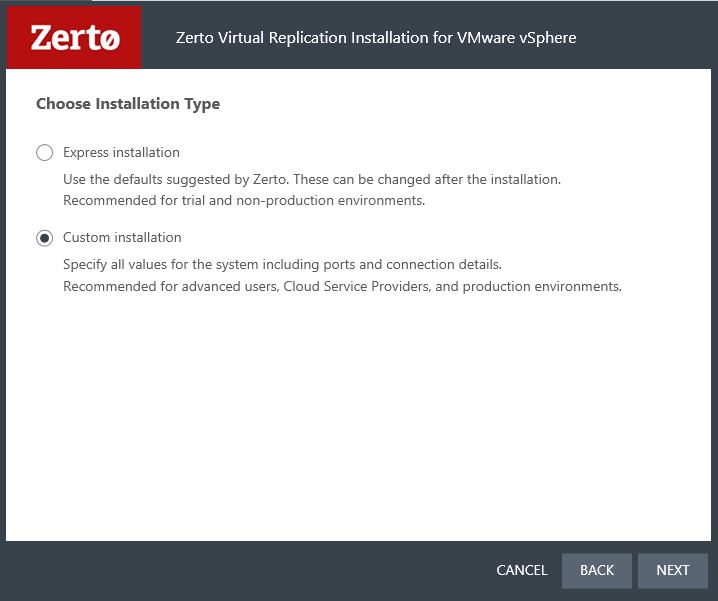 Step 5 – Security Credentials
Give it the appropriate credentials. Whether you run it as a local system account or a named account is up to you and what business rules you have governing application security and access.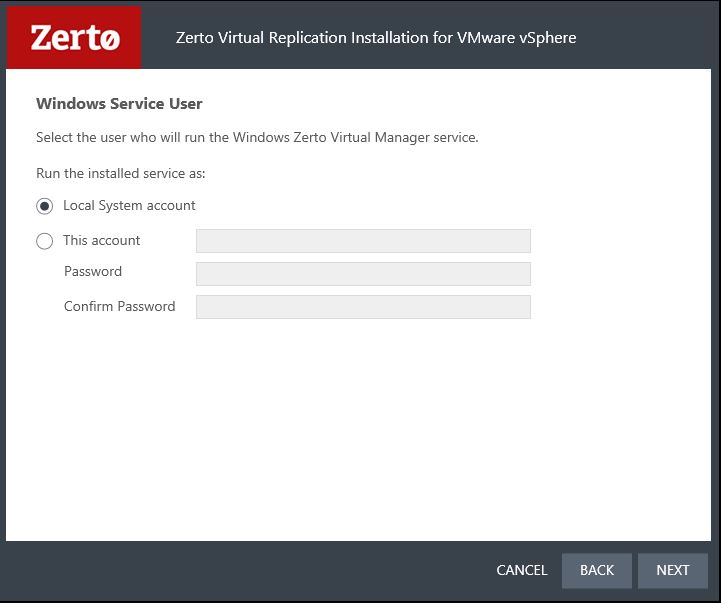 Step 6 – Database Type
Choose whether to use the embedded database or if you prefer to use an existing external database.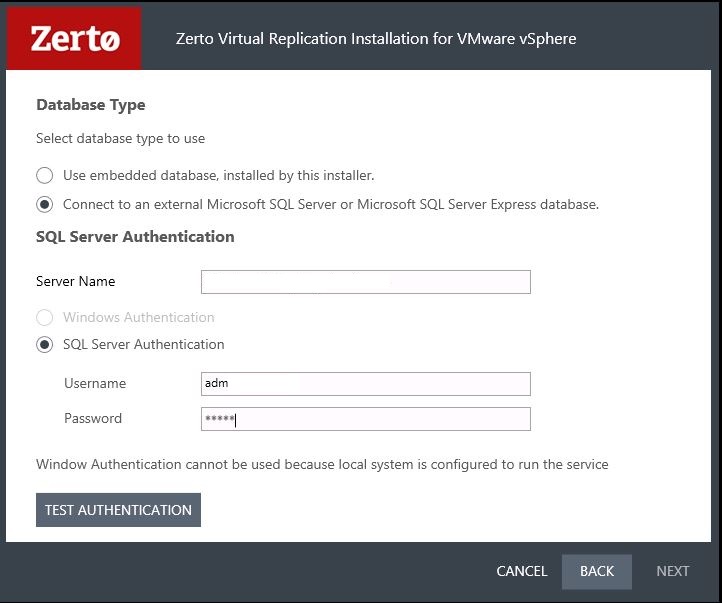 Step 7 – vCentre Credentials
Put in your vCenter server and credentials.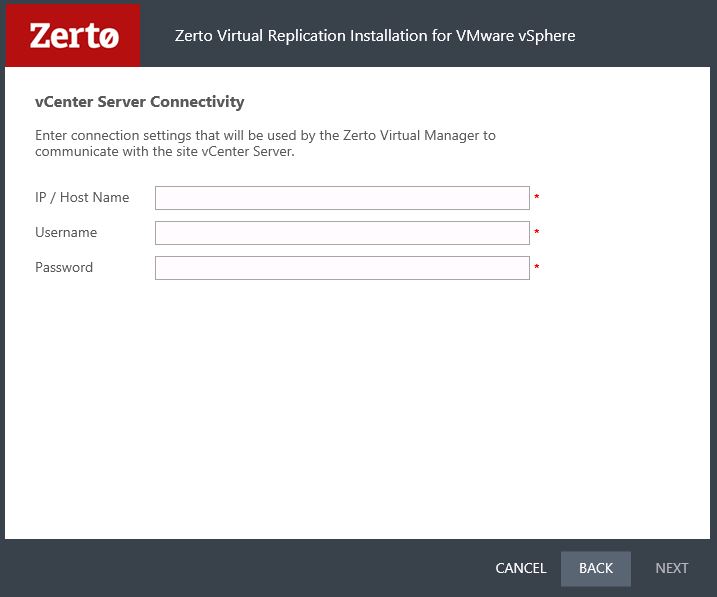 Step 8 – vCloud (Optional)
Enter in vCloud information if you are using vCloud on premise. If you don't know what this means then you most likely do not need to enable vCD BC/DR and should simply hit next.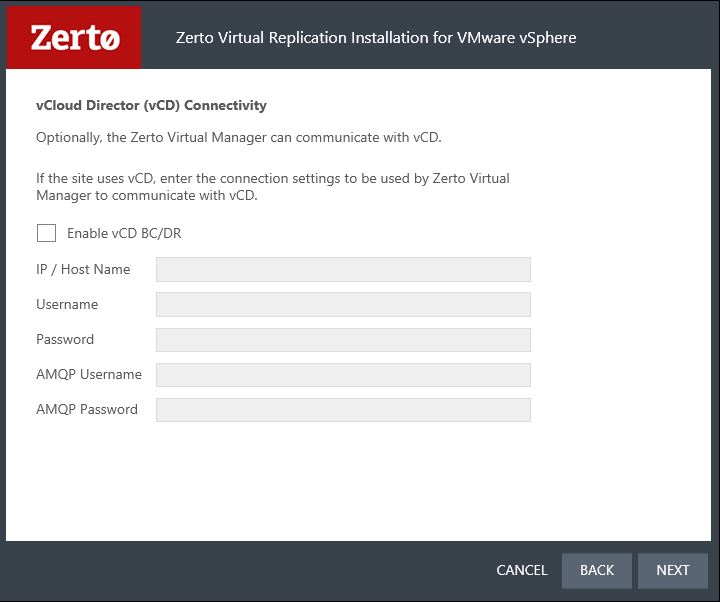 Step 9 – Communications Ports
This is an important step and you should not alter the below ports at all. If you alter any of these ports, you may have difficulties pairing to the Zettagrid SecondSite™ instance in your Availability Zone.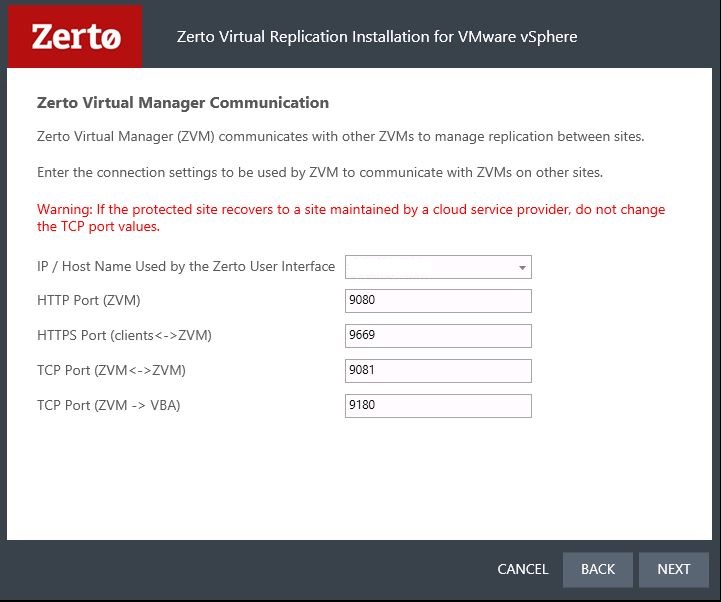 Step 10 – Installation Commences
Wait for the installation.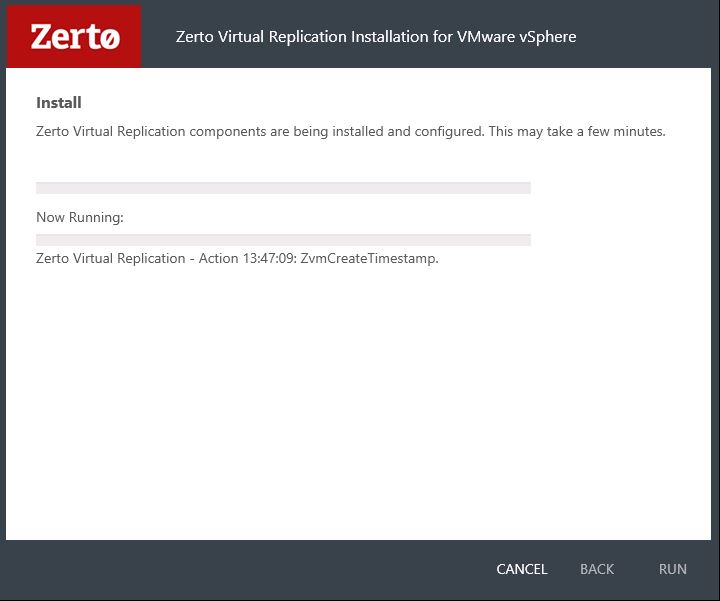 Step 11 – Install Complete
Tick the box to open the Zerto interface.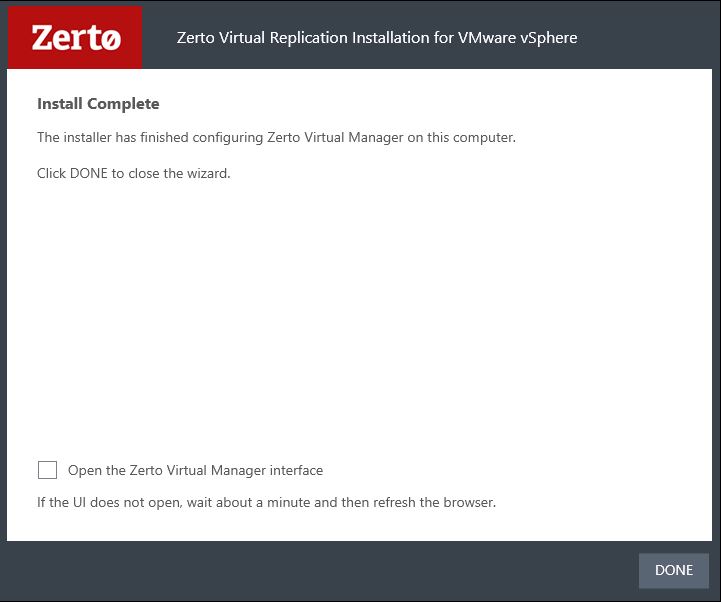 Step 12 – Pair with Zettagrid
Check the "Pair to a site with a license" option and then enter in the IP address that Zettagrid have used when deploying your own personal SecondSite appliance. It was the IP address you provided initially when you signed up.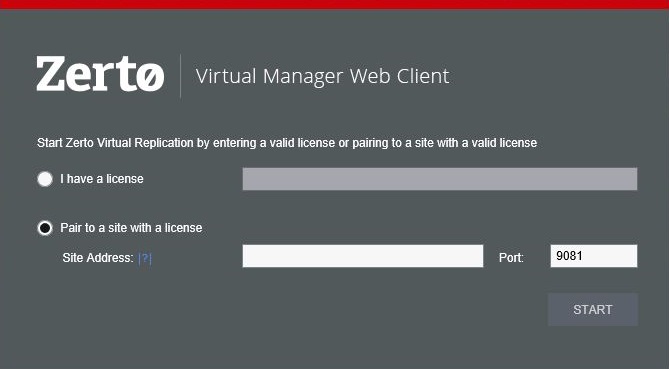 If you have problems pairing at any stage during operation, make sure that you have the following ports open.
| Port | Description |
| --- | --- |
| 22 | Communication between the ZVM and your hosts and between your ZVM and our Zerto Cloud Connector (ZCC) in your isolated VDC. |
| 443 | Communication between the ZVM and your hosts and locally between your ZVM and your vCenter Server or vCloud Director. |
| 4005 | Log collection between your ZVM and VRAs in your same site. |
| 4006 | TCP communication between the ZVM and VRAs and the VBA on the same site. |
| 4007 | TCP control communication between your local VRAs to our VRAs through your dedicated ZCC. |
| 4008 | TCP communication as above to pass data from your protected virtual machines to our VRAs through your ZCC. |
| 4009 | TCP communication locally between your ZVM and VRAs to handle checkpoints. |
| 9080 | HTTP communication between your ZVM and other local Zerto components. |
| 9081 | TCP communication between your ZVM and our ZCC. |
| 9779 | HTTPS communication between the Zerto Self-Service Portal for in-cloud (ICDR) customers and a ZVM. |
Step 13 – Setup Replication
Click on the 'Setup' tab to start the installation process for the VRAs to enable replication.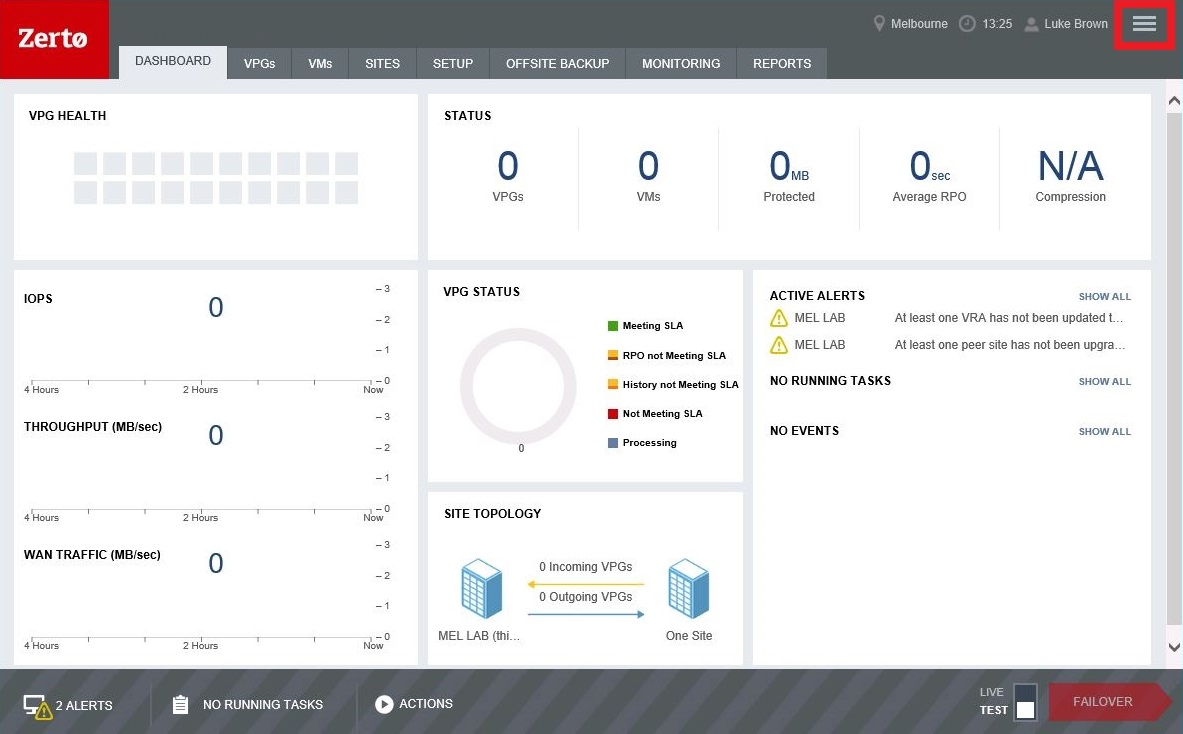 Step 14 – Create VRA
Click on the 'New VRA' button to deploy your first VRA. You will need to deploy one VRA per ESXi host that is protecting VMs.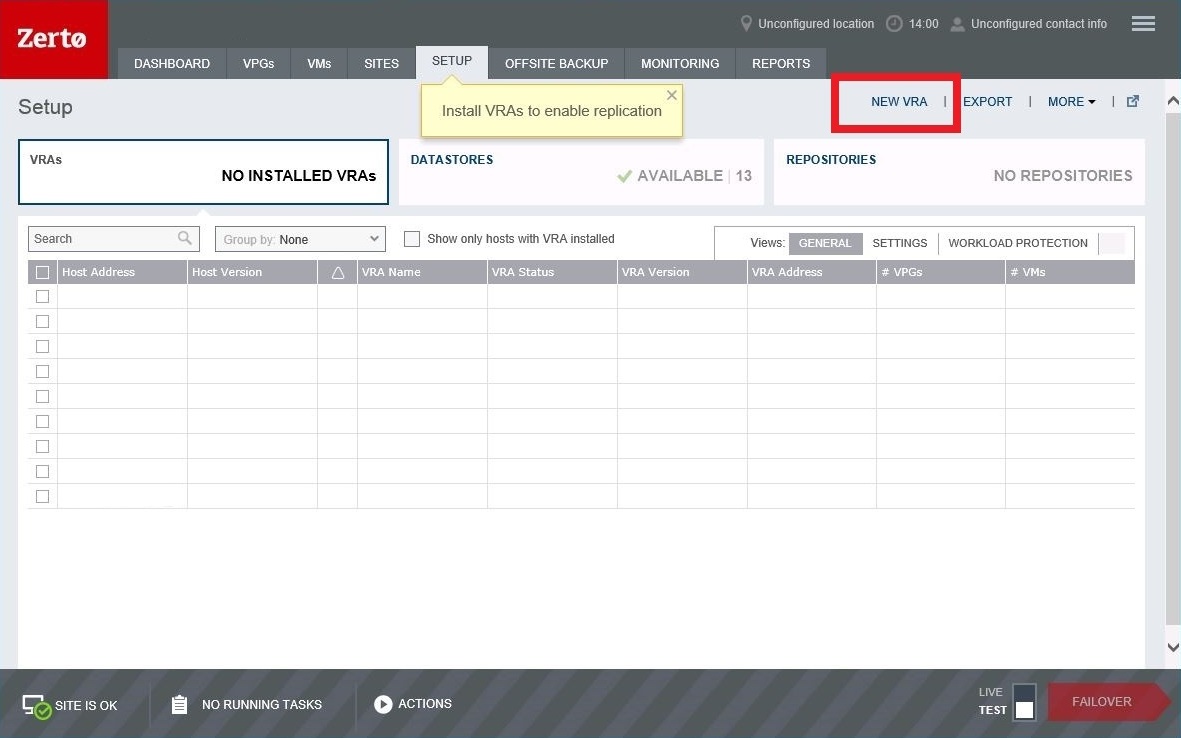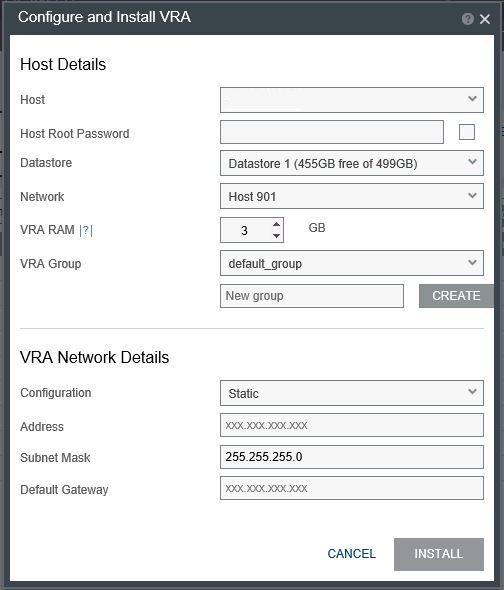 If you have any issues installing a VRA then please be sure that you have the following requirements per VRA;
Disk Space: 12.5 GB
RAM: 1 GB (reserved). It is minimum requirement
SSH Port:22 is enabled on ESXi host
Https Port: 443 is enabled on ESXi host
Static IP
Step 15 – Deployment Completed
Success! You have now fully deployed Zerto and all its components. Part of the initial install process was to install the vSphere plugin as well.  If you do not wish to use the Zerto console, then you can also see it now from within vSphere as per below.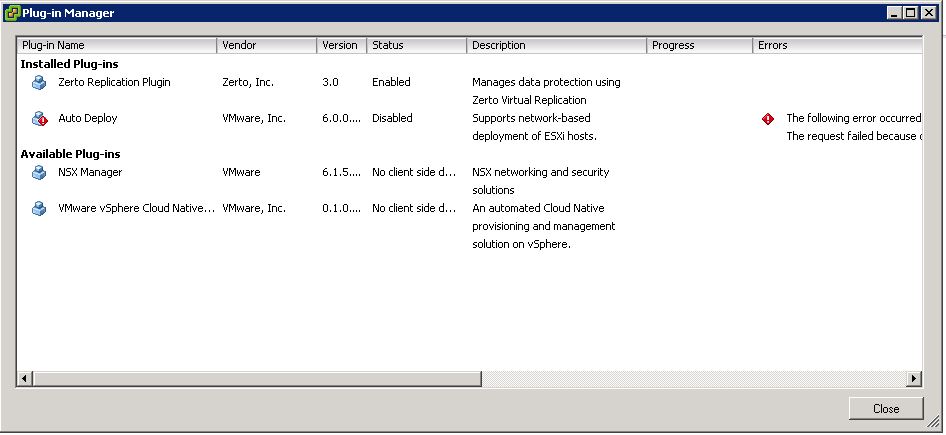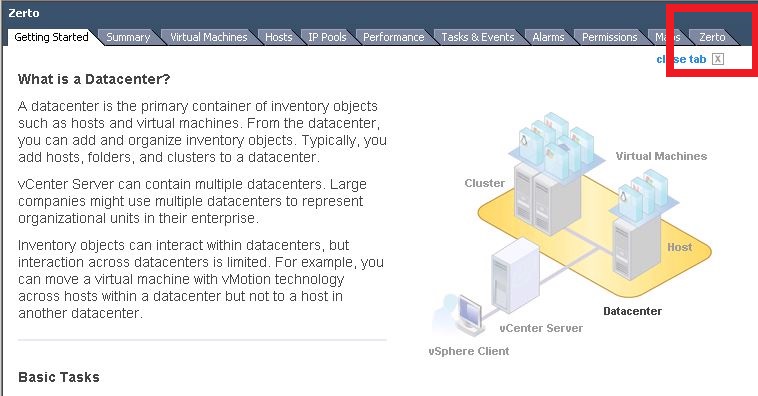 Step 16 – Create VPGs
Now you need to start protecting VMs and creating Virtual Protection Groups (VPGs).
If you need assistance in getting started creating VPGs, please refer our guide on protecting VMs.