Veeam Replication Charges
Veeam Replication is billed in two parts:
Base Monthy Charge
Failover Charge
The base monthly charge is determined by the number of VM's you are replicating into Zettagrid, plus the reserved storage to host the VM replicas plus the number of public IP addresses required.
In the case where a Failover Plan is executed due to a disaster, the running costs of the VM replicas within Zettagrid are calculated on a per day charge and then invoiced at the end of the billing month taking into consideration the amount of days the failover resources where running within the Zettagrid Replication Zone.
When ordering you Cloud Connect Service from the Zettagrid Catalog, in the right hand Summary you will see listed your total monthly charges based on the number of VM licenses and total storage and then the per day charge for failover resources.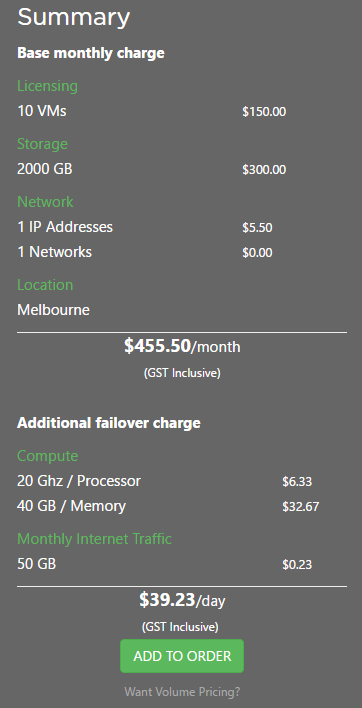 In this case for any failover event (Full or Partial) you will be invoiced $39.23 per day. Note that there is not per hour or per minute value and the minimum amount billable will be the cost of the whole day. In the example above, if you required the replica resources to be running for one week the total billable amount would be $274.61. For that month, the total invoiced amount would be $455.50 plus the $274.61.