In our continual efforts to improve on business agility, we have partnered with TurnKey to give access to the excellent library of TurnKey appliance virtual machines within ZettaGrid Virtual Data Centres (vDCs).
TurnKey is a community contributed library of application specific virtual appliances that have been pre-configured with open source application and management tools, ready to go. With over 100+ different virtual appliances ranging from file servers, web application stacks, messaging and business process applications there will most likely be an appliance to suit your needs.
Each appliance comes preconfigured with a base Debian 7.2 (Wheezy) install fully patched and enabled for daily security updates. Webmin, a graphical Linux administration web console,  and a web-based command line console are installed by default and exposed via ports on the included iptables firewall for ease of management.
I will now highlight a few of the appliances we believe to be the most useful and then I'll take you through deploying an appliance within a vDC on ZettaGrid.
LAMP Stack

The LAMP stack appliance provides a fully configured, all-in-on virtual machine with the Apache web server, MySQL database engine and PHP, Python and Perl already installed and ready to start hosting your web application. Simply login via the PHPMyAdmin console to administer your databases and use STFP to upload your website content and you're set to go. Further details can be found on the TurnKey Linux website.
OpenVPN Server

The OpenVPN appliance can be operated in one of three modes, server: allow clients to access a protected subnet behind the VPN appliance via a secure VPN connection, gateway: force all user traffic to be routed via the appliance and client: allow the appliance to act as a client to another OpenVPN server. This appliance makes it very easy to setup client devices by providing downloadable configuration files and QR codes for ease of configuring mobile devices. Further details can be found on the TurnKey Linux website.
WordPress

The WordPress appliances comes preinstalled with WordPress and all underlying applications (Apache, MySQL, PHP and Postfix) and only waiting on your own content and themes. WordPress is also preinstalled with many popular plugins to enable social functions, video embedding, search engine optimisation (SEO) and many more. Further details can be found on the TurnKey Linux website.
OwnCloud

OwnCloud is a is a private cloud document, music, contacts and calendar platform that allows you to store and access your files within an environment you control. You can store files, photos, videos, music, contact and even edit text files. The platform also supports plugins that add additional functionality such as document editing, video playback and much more.  Further details can be found on the TurnKey Linux website.
Other available options include source control appliances, messaging and micro-blogging platforms, file and SAMBA servers, web application development platforms such as GO, AppKit and Django and many many more!
Deploying a TurnKey Appliance
To deploy a TurnKey appliance from within your ZettaGrid vDC, simply browse to the new "TurnKey" catalog under Catalogs > Public Catalogs > TurnKey to list all the available appliance vApp templates. To deploy, right click a template and select "Add to My Cloud…"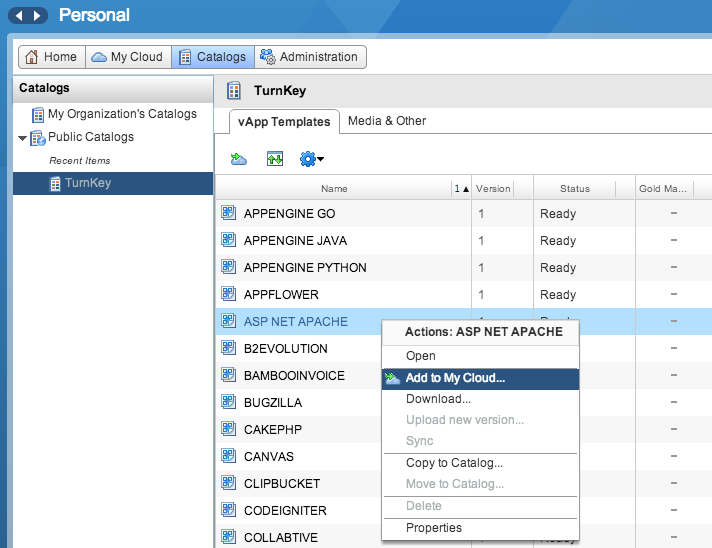 This will allow you to deploy the appliance like any other vApp. Give the vApp a name and select your storage profile.
Going into the vApps view, you should be able to see your vApp being built.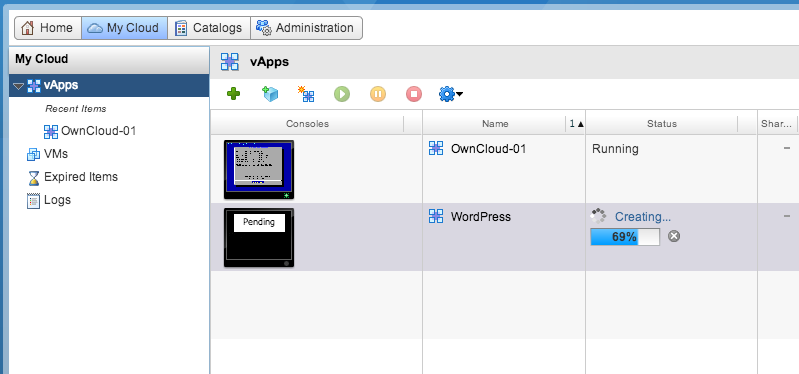 Once your vApp has finished provisioning, you need to go into the vApp and edit the NIC on the VM to connect it to an Organisation vDC network. Once you've done this you can power up the vApp and do the small amount of configuration for the appliance. I have chosen a WordPress appliance so it asks me to first enter and confirm root, MySQL and WordPress admin account passwords: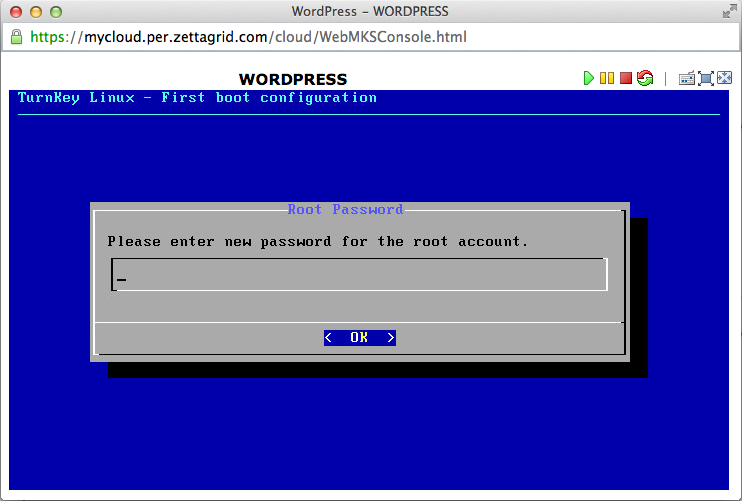 You should now be presented with some other TurnKey options which you can skip: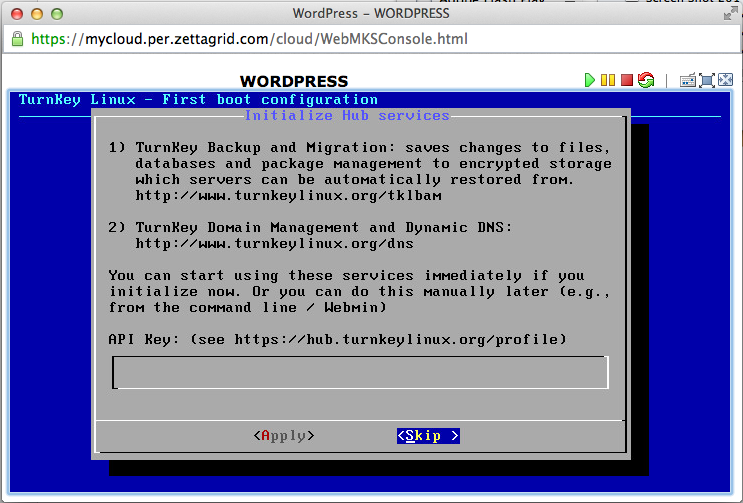 The next screen asks to do security updates, as we haven't configured IP address settings as yet, this will fail. So for now, we will skip this part for now: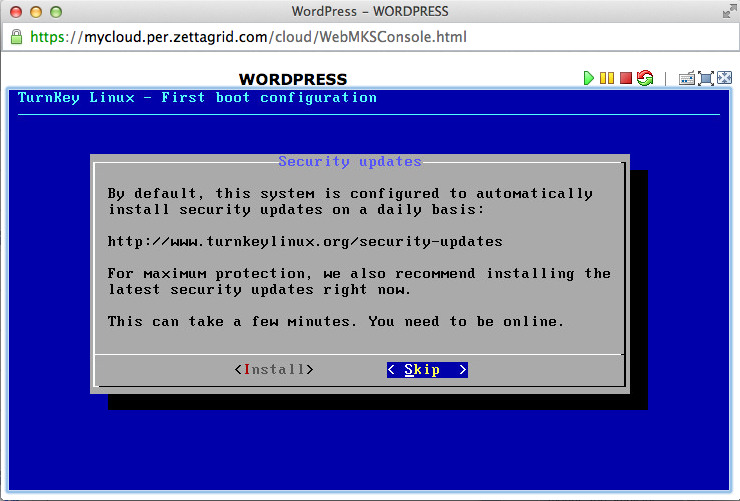 The VM will prompt to configure network settings – I have my vApp configured in vCloud with a static address assigned out of a pool – 192.168.60.101/24 in this case.
Select 'OK' at the network connections error prompt and continue to setup Static IP settings: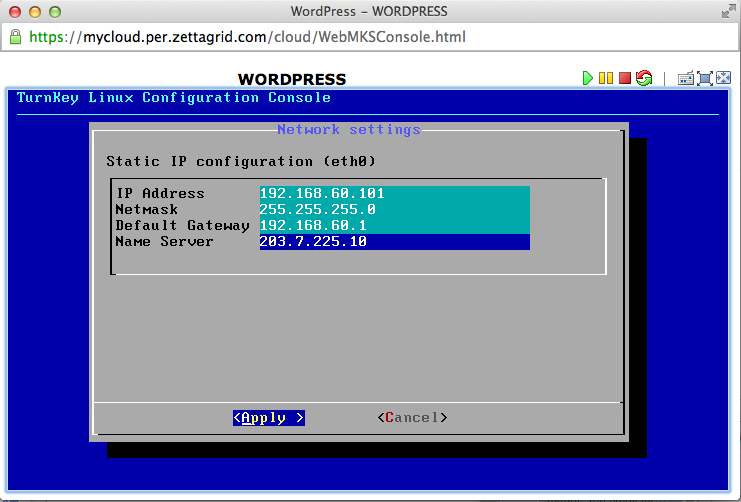 Finally, reboot the appliance to apply all configuration: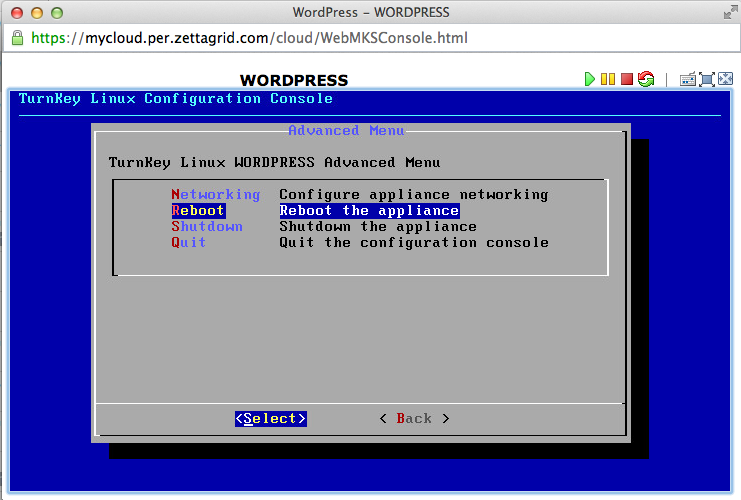 Once the appliance has rebooted, you are presented with the main information console for the appliance. This screen shows the installed services and the various ports they are listening on.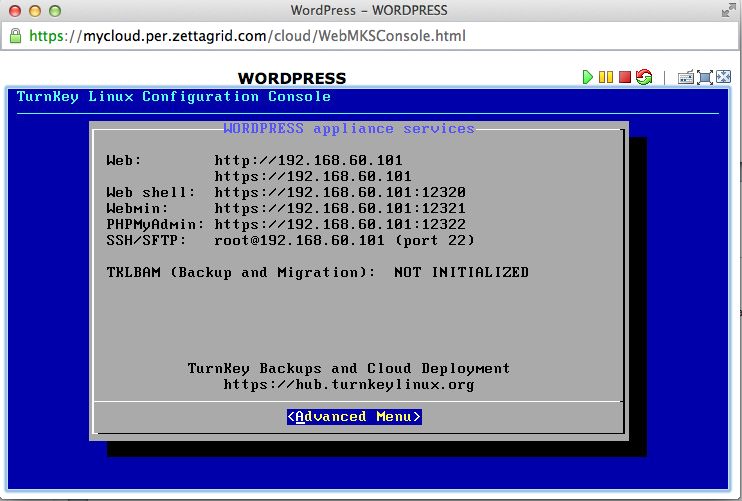 You will need to go into your Edge Gateway configuration and add the necessary  NATs and Firewall rules to allow external access to your appliance.
I've gone and done this and I now have a fully working, WordPress appliance in about 20 minutes or less!!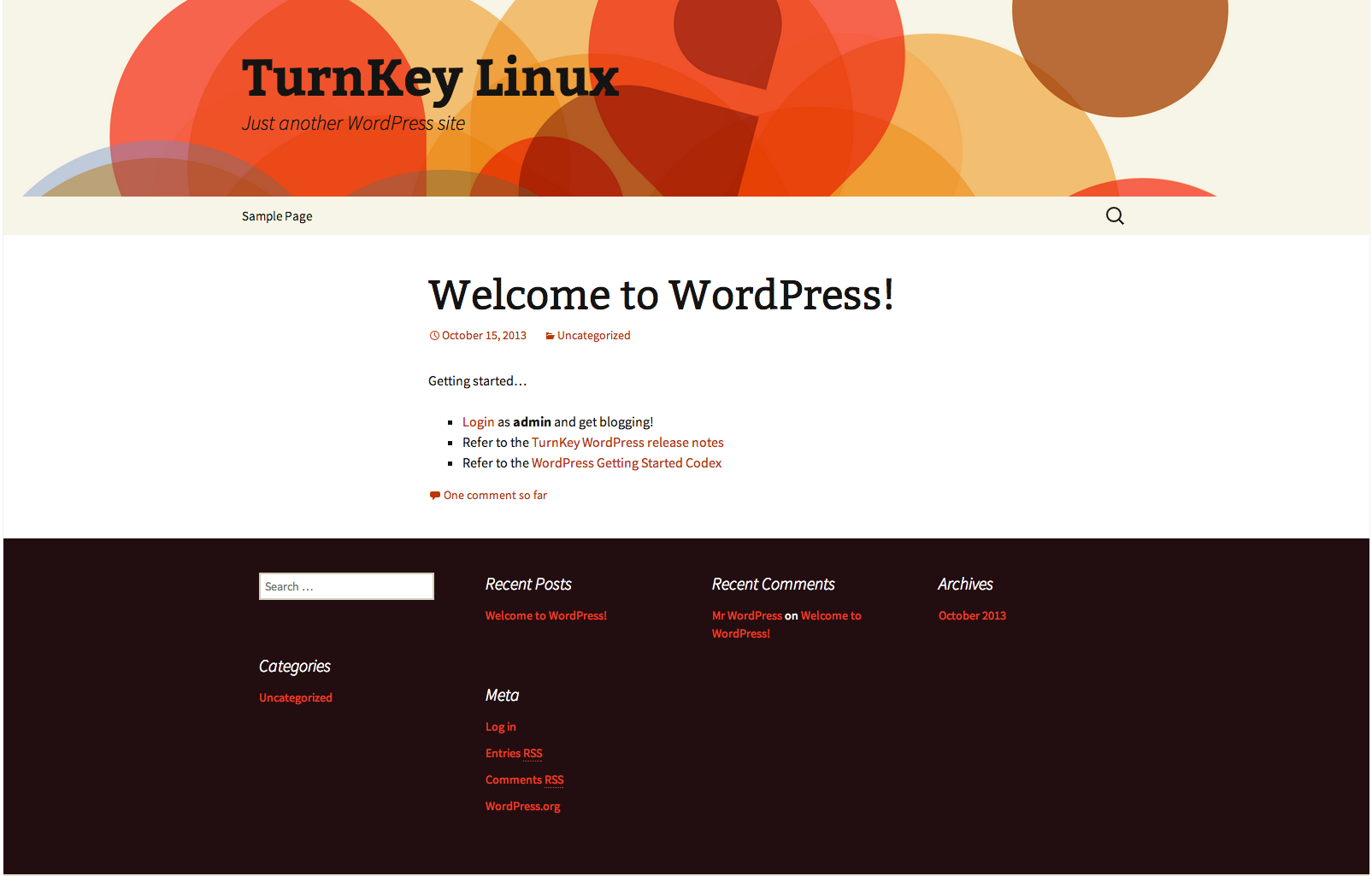 If you're having any issues or have questions to ask, please go through the usual support avenues outlined on our Support Page or reference Quick Start Guide for Virtual Data Centres for more information.
https://www.zettagrid.com/wp-content/uploads/2017/10/zettagrid_brandmark_allwhite_0.fw_.png
0
0
Daniel Santini
https://www.zettagrid.com/wp-content/uploads/2017/10/zettagrid_brandmark_allwhite_0.fw_.png
Daniel Santini
2014-06-30 18:37:23
2014-06-30 18:37:23
TurnKey Linux Appliances now on ZettaGrid